Has opening your monthly utility bill become a little scary lately?
Utility bills represent an increasingly large percentage of our monthly expenditures. Many people accept high energy costs as a way of life, but there is something you can do about it. 
The first step to lower utility bills and a more comfortable home is a home energy audit. A home energy audit performed by a certified home energy rater will help to pinpoint the problem areas of your home, as well as prioritize any action taken to repair these areas. A major issue in regard to comfort and high utility bills for many homes is infiltration, or air leaks. Infiltration and hidden air leaks account for up to 40% of a homes energy loss and are often hard to find. Using a blower door to depressurize the house and a thermal imaging camera, we provide a non-intrusive means to locate any points of infiltration and missing or damaged insulation. We also take a look at duct leakage, windows and doors, HVAC (heating ventilation and air conditioning) equipment, domestic hot water heaters, wall and ceiling insulation, lighting and any other factors contributing to high bills.
Once these problem areas are located, many times they are quite simple to address. In our reports, we provide a list of priorities based on the findings during the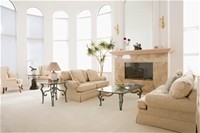 audit. The first priority is always sealing up those hidden air leaks, which often times can be a do-it-yourself project. Increasing the comfort of your home is often as simple as buying a tube of caulk and applying it where necessary. Decreasing your bills does not have to start with expensive projects such as replacing windows or furnaces. You can have the newest, most efficient windows or furnace but if you have a 'leaky' home, your savings will be minimal. That being said, sometimes new windows or other 'big fixes' are necessary. In these cases, we will lead you in the right direction to make sure you get the most from your investment.
The time is right to weatherize your home to reduce your utility bills and increase the comfort of your home. Walker Energy Services can make sure you don't waste valuable time and money 'guessing' where to start weatherizing. A blower door and thermal imaging camera will take the guesswork out of the process. We will provide a comprehensive energy report based on the findings and detail the most cost effective way to help lower  your bills. With a certified home energy rater on staff, we can also run a cost analysis report which looks at time of payback for any upgrades you may decide to pursue.