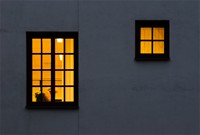 How much does a home energy audit cost?
Please call us at 505.385.8838 or
email us
and we will be happy to provide an estimate for you
Is replacing windows the best thing to do to increase a homes efficiency?
Yes and no. Due to the cost of replacing windows we look at other strategies for lowering your utility bill first. If you have a large budget and old aluminum frame, single pane windows than they can be a worthwhile investment. We suggest asking us to look into payback time of any such large investments before you go through with them however.